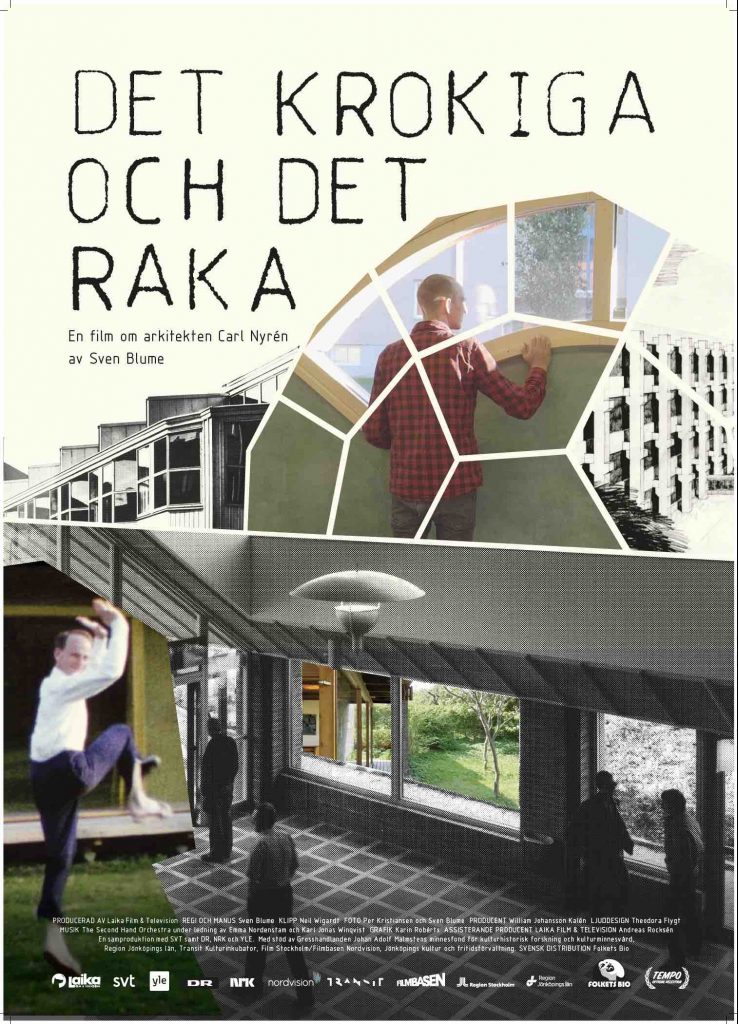 Se DET KROKIGA OCH DET RAKA på TV:
SVT (SE), YLE (FIN), Avrotros (NL) och NRK (NO)
Vinnare av Kritikerpriset (Arkitektur) 2022!
"Kritikerpriset 2022 går till en djupt personlig betraktelse om arkitekturens innersta väsen. En poetisk odyssé som leder oss från ett utifrånperspektiv ända in under skrivbordslampornas bleka sken. Här fångas inte enbart en livsgärning, utan essensen i mycket av det som är arkitekturens kärna. Årets pris tilldelas Sven Blume för filmen Det krokiga och det raka, om arkitekten Carl Nyrén. "
Lyssna på pod "Arkitekturens vinnare" ett samtal med Dan Hallemar och Sven Blume om filmen och Kritikterpriset 2022. Finns även på Spotify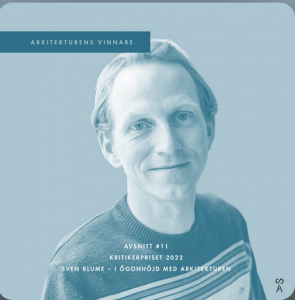 Lyssna på filmens Soundtrack –  Spotify
Musik av The Second Hand Orchestra under ledning av Emma Nordenstam och Karl Jonas Winqvist.
Filmen gick upp på bio, (Folkets Bio) under våren 2021, sedan dess har den visats runtom i Sverige, Europa och USA. Flertalet visningar har skett inuti de hus som Nyrén ritat. Några visningar är planerade för 2023, fler tillkommer.
Publika visningar (i urval): 2021-2023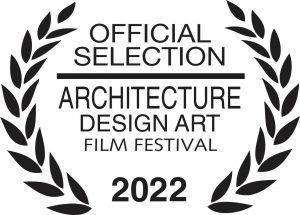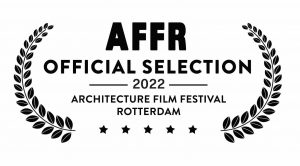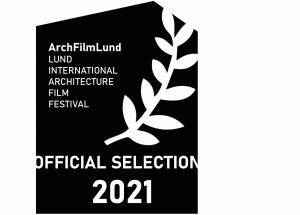 Film and Architecture Czech festival in Prague, Czech Republic,
Screenings in several cities in September and October 2023.
Screening with directors talk in Prague, October the 4th.
Malmö in the making
Film screening at cinema Panora, Folkets bio. Malmö
September the 27th. Including a work in progress talk about the new film about the architect Sigurd Lewerentz
Jönköpings arkitekturvecka (architecture week) 2023
Carl Nyrén Symposium
Film scrteening and panel discussion. September the 6th.
Umeå,  18de April 2023
Visning inne i Ålidhems kyrkorum (Nyrén 1973)
som del av kyrkans 50-års jubileum (2023)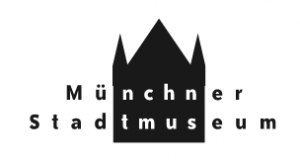 München, Tyskland  28de mars 2023
Architecture film day. Filmmuseum im Müncher Stadtmuseum
AFFR Rotterdam Architecture Film Festival
6-9 Oktober 2022
Fyrislund, Uppsala (Screening at Pharmacia factory)
20th September 2022, open screening for all audience, book in advance here
Symposium – part of a panel discussion about Architecture and Film (focus on Sigurd Lewerentz). ArkDes Stockholm 2nd August 2022
Handelshögskolan, Göterborg
17 maj kl 18:00. Panel discussionwith Johannes Norlander and Peter Eréus after screening. Free entrance. More info about the event
ArkDes Stockholm (Sweden's national centre for architecture and design).
– screening with director 29th of March 2022 at 18.00
Avrotros (NL) The Nederlands broadcast premiere 3rd of March 2022
YLE (FIN) Finsk TV-premiär 28 februari
Architecture Design Art Film Festival (ADAFF), Palm Springs, USA
17-20 Februari 2022
Norway TV-Premiere – January 6th 2022 at 20:00,
NRK2 Norwegian title "Carl Nyrén – om det bøyde og det rette"
Immanuelskyrkan, Jönköping
31 januari 2022 kl 18.00. By Carl Nyrén. Screening with director
Culturum, Nyköping. 9 dec 2021 kl 18:30 -the event
(by Carl Nyrén) screening with director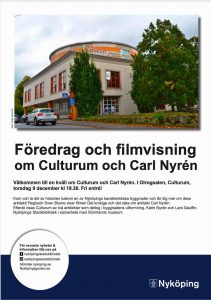 Uppsala Stadsbibliotek- 6e december 2021 at 18.00
(by Carl Nyrén) screening with director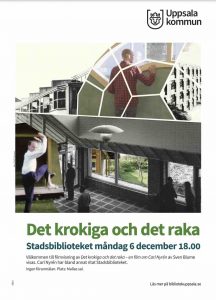 Screening at Villa Nyrén – Bromma – In Nyréns former home, the villa he made for him and the familly 1962. November 28th 2021 – tickets here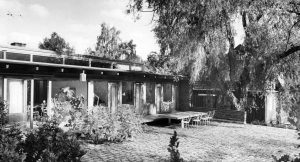 Värmlands museum (by Carl Nyrén) wed 23rd Oktober
– screening with director + ongoing exhebition guided with Matti Klenell "Stanna här en stund" in the museum.
ArchFilmLund (in competition) – screening in Västerkyrkan (by Carl Nyrén) söndag 17 okt kl 1730
Fyrisbiografen Dokumåndag Uppsala Folkets bio 11e okt kl 17:30
Regina, Folkets bio Östersund,
2a oktober kl 15:00
Zita-screenings (Stockholm)
– For Students: 10/11 kl 17:45
– Co workers of Nyrén (nya och fd) Nyréns arkitektkontor 11/11 kl 17:45
– Branch 23/10 kl 17:45
Listen to the Book Nyrén wrote in the 90s about his architecture.
Read by director Sven Blume (2021)
Tidningen Arkitektur about the film
The paper Mitt i about the film
Premiere screening at Tempo Dokumentärfestival in March 2021 at Vällingbykyrkan in Stockholm
Interview with director Sven Blume in swedish broadcast
Kulturnyheterna, SVT:

Presentation på Filmhusets vårpresentation 2021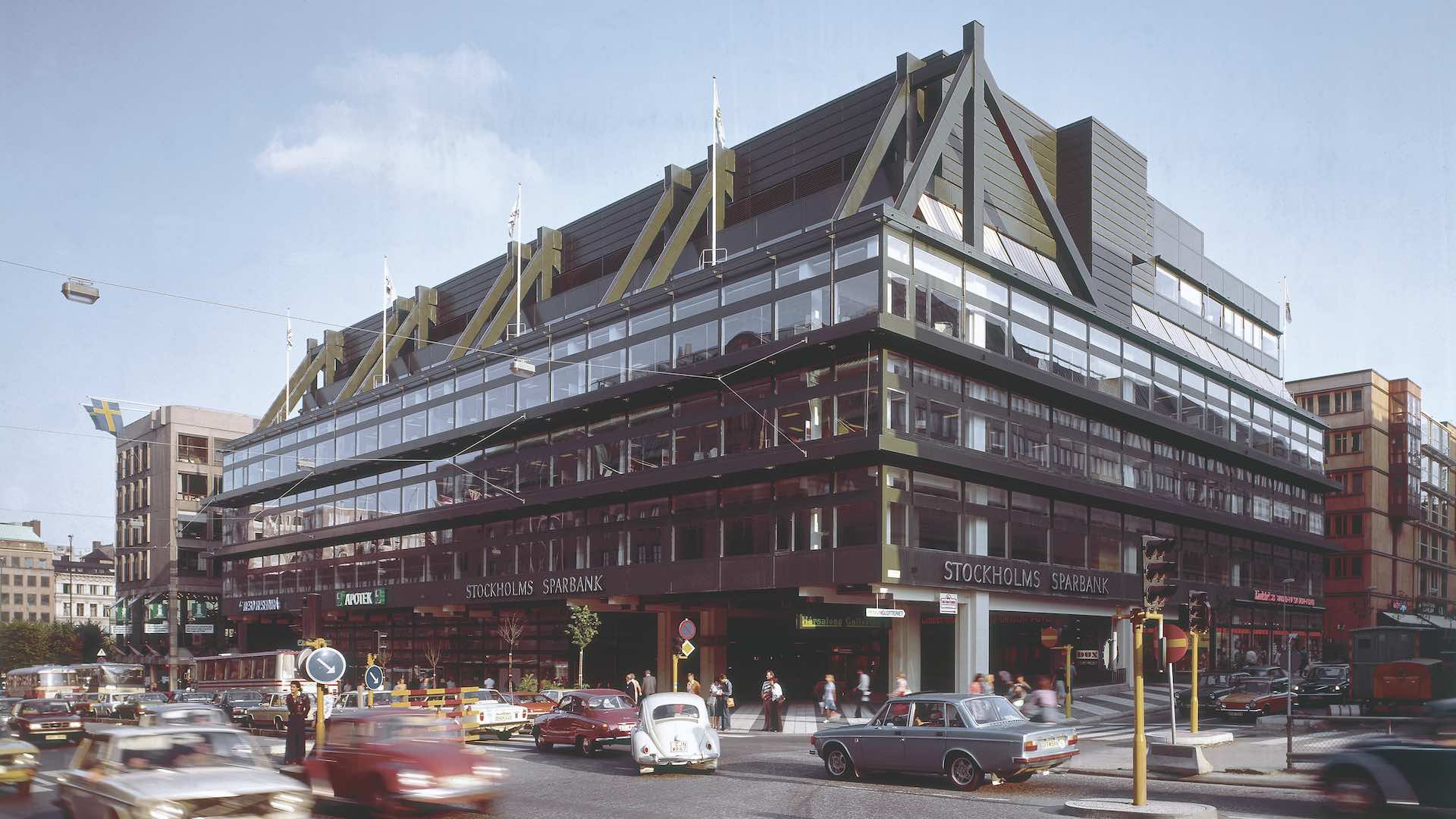 Running time: 58 minutes
Director Sven Blume
Producer William Johansson, Laika film
In co-production with SVT, Swedish Television art and culture department.
DP: Annika Busch, Per Kristiansen, Sven Blume
Editor: Niel Wigardt
Release: 2020